As a professional USB flash drive encryption software and mobile hard disk encryption software, USB Encryptor has Updated to Version 7.05. This updated version adds two common function buttons, which promotes emergency recovery and image browsing functions.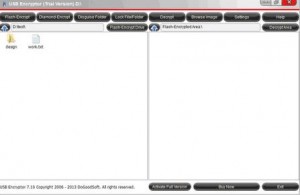 Software Info:
Name: USB Encryptor
The latest version: v. 7.05
File size: 886KB
Category: folder security & encryption
Language: English
Software License: trial version
System Requirements: Win XP/VISTA/Win7/8
Released on: 2012/8/14
Download: http://www.dogoodsoft.com/usb-encryptor/
Update information:
Exterminate two bugs that there is no hint when users select a file to disguise.
Promote two functions of software.
Promote the image browsing function.
Add two common function buttons which is convenient for user.
Promote the emergency recovery function.
Brief introduction:
A elite encrypting software, USB Encryptor can encrypt all or any specific data in a portable storage device(a USB flash drive, removable drive, memory card or a memory stick) in just seconds. Data encrypted by USB Encryptor is not bound to where it is encrypted. It can be used on any computer.
With no need to install USB Encryptor, it also won't write any data into system. Simply put it in the USB device you want to encrypt and use it. It is a user-friendly green software, easy and simple to use.