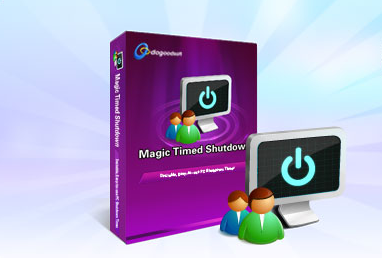 DoGoodSoft recommends its monitoring and control product, Magic Timed Shutdown, an advanced and powerful tool permitting you to schedule certain tasks for your computer. It is known for four major features—Timed Shutdown, PC Management, Timed Limit and Log Analysis, which make Magic Timed Shutdown be a very good helper for users, especially for parents and managers. Magic Timed Shutdown is launched  for more users' convenience
About Magic Timed Shutdown
Magic Timed Shutdown is an excellent monitoring and control tool for concerned parents and managers to help respectively supervise their children and employees. By taking specific actions, PC managements, limiting use time and recording all computer startup, shutdown and running time, Magic Timed Shutdown covers parents and managers' surveillance needs.
It can take 14 actions such as computer shutdown, reboot, log off and sleep mode under 11 restricted conditions. By PC managements, it can automatically block chat software, compression software, download software and other kinds of software. Besides, you can limit the use of computer or network at specified time according to your own. Clear and specific startup, shutdown and running time logging help you control the use of computer all-roundly.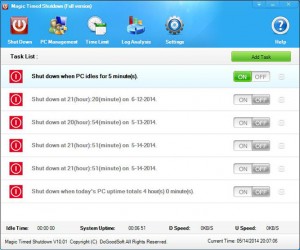 Magic Timed Shutdown is simple to use and easy to install. No complex installation or configuration is required.
Availability
Magic Timed Shutdown is compatible with 32-bit and 64-bit versions of Windows XP, Vista and Win 7.
More information about the product please visit: www.dogoodsoft.com/magic-timed-shutdown/.
If you want to learn more products of us, please visit our company website: www.dogoodsoft.com/.