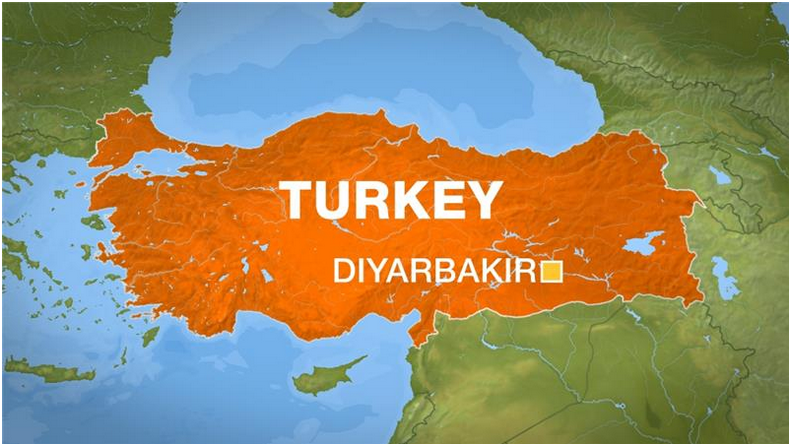 Three staff members from Vice News were charged with "engaging in terrorist activity" because one of the men was using an encryption system on his personal computer which is often used by the Islamic State of Iraq and the Levant (ISIL), a senior press official in the Turkish government has told Al Jazeera.
Two UK journalists, Jake Hanrahan and Philip Pendlebury, along with their Turkey-based Iraqi fixer and a driver, were arrested on Thursday in Diyarbakir while filming clashes between security forces and youth members of the outlawed and armed Kurdistan Workers' Party (PKK).
On Monday, the three men were charged by a Turkish judge in Diyarbakir with "engaging in terrorist activity" on behalf of ISIL, the driver was released without charge.
The Turkish official, who spoke on condition of anonymity, told Al Jazeera: "The main issue seems to be that the fixer uses a complex encryption system on his personal computer that a lot of ISIL militants also utilise for strategic communications."
Speaking to Al Jazeera, Tahir Elci, the head of the Diyarbakir lawyers association, said: "I find it ridiculous that they were taken into custody. I don't believe there is any accuracy to what they are charged for.
"To me, it seems like an attempt by the government to get international journalists away from the area of conflict.
"These people have obviously been in contact with YDG-H members (the youth wing of the PKK) because of their jobs, because they are covering stories. This might not have been welcomed by the security forces."
Rejecting the accusations, the Turkish press offical said: "This is an unpleasant incident, but the judiciary is moving forward with the investigation independently and, contrary to claims, the government has no role in the proceedings."
'Freedom of expression'
In response to the charges, Kevin Sutcliffe, Vice head of news programming for Europe, said on Monday that the judge "has levelled baseless and alarmingly false charges of 'working on behalf of a terrorist organisation' against three VICE News reporters, in an attempt to intimidate and censor their coverage.
"Prior to being unjustly detained, these journalists were reporting and documenting the situation in the southeastern Turkish province of Diyarbakir.
"Vice News condemns in the strongest possible terms the Turkish government's attempts to silence our reporters who have been providing vital coverage from the region.
"We continue to work with all relevant authorities to expedite the safe release of our three colleagues and friends."
In Brussels, EU spokeswoman Maja Kocijancic said on Tuesday: "Any country negotiating EU accession needs to guarantee the respect for human rights, including freedom of expression."
The PKK and the Turkish state were engaged in a war for almost 30 years until a 2013 ceasefire was declared after the two sides held peace talks.
There have been clashes between security forces and protesters in different parts of Turkey following the unravelling of the ceasefire and the beginning of an air campaign by Turkey against the group.