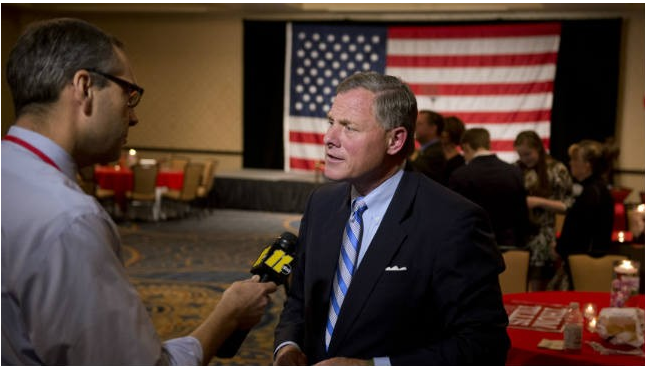 Congress must enact a law that would require companies to decrypt data upon government request, Senate Intelligence Committee Chairman Richard Burr (R-N.C.) argued Thursday in a Wall Street Journal op-ed.
"Criminals in the U.S. have been using this technology for years to cover their tracks," Burr said. "The time has come for Congress and technology companies to discuss how encryption — encoding messages to protect their content — is enabling murderers, pedophiles, drug dealers and, increasingly, terrorists."
The recent terrorist attacks in Paris and San Bernardino, Calif., have reignited the debate over encryption. Lawmakers and investigators have said they believe the people behind those incidents likely used encrypted platforms to help hide their plans.
Burr has been one of Capitol Hill's leading proponents of legislation that forces companies to crack their own encryption. But the tech community has pushed back, arguing that such a mandate would make encrypted data less secure.
Major tech players like Apple have even refused to comply with court orders for encrypted data, arguing that they can't access their own secured information.
Burr said this has become a serious issue for law enforcement.
"Even when the government has shown probable cause under the Fourth Amendment, it cannot acquire the evidence it seeks," he said, adding, "Technology has outpaced the law."
Burr explained that the Communications Assistance for Law Enforcement Act of 1994 "requires telecommunications carriers — for instance, phone companies — to build into their equipment the capability for law enforcement to intercept communications in real time."
"The problem is that it doesn't apply to other providers of electronic communications, including those supporting encrypted applications," he said.
It's time for Congress to close that loophole with legislation, Burr insisted.
But it's unclear if Burr would have the momentum to move his proposed bill. While Senate Intelligence Committee Ranking Member Dianne Feinstein (D-Calif.) has said she will work with him on his efforts, other congressional leaders seem more hesitant.
Many have suggested the government must simply do a better job of working with Silicon Valley to come up with a non-legislative solution.
House Homeland Security Committee Chairman Michael McCaul (R-Texas) recently proposed "a national commission on security and technology challenges in the digital age." The commission, tasked with creating alternatives to legislation, would include tech companies, privacy advocates and law enforcement officials.
Burr countered that the tech community has almost forced Congress's hand.
"I and other lawmakers in Washington would like to work with America's leading tech companies to solve this problem, but we fear they may balk," Burr said.
He noted that when Apple refused to comply with the court order seeking encrypted data, the company argued, "This is a matter for Congress to decide."
"On that point, Apple and I agree," he said. "It's time to update the law."