Ace Secret Folder, a professional folder encyption software, has been updated to version 6.66 recently. In this new version, we have made great improvements, such as fixed some major and minor bugs. Besides, we enhanced the password hint, the encryption efficiency and strength, and the user interface.
Change Log of Ace Secret Folder 6.66:
File Name: Ace Secret Folder
Version: 6.66
File Size: 2.96MB
Language: English
License: Trial Version
OS Support: Win2000/XP/VISTA/Win 7/Win 8
Released on: Jun.26, 2015
Download Address: http://www.dogoodsoft.com/ace-secret-folder/free-download.html
What's New in This Version:
- Fixed bug unable to change the software skin promptly;
- Fixed bug that software ID exception in specific systems;
- Fixed 5 minor bugs;
* Improved password hint;
* Improved efficiency and strength for Password Protection and Hiding Protection;
* Enhanced software interface for XP.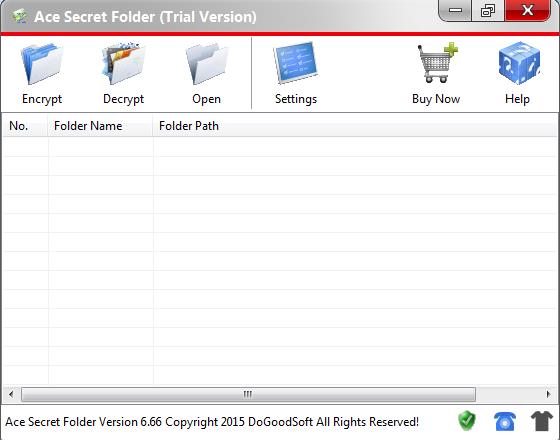 Why Choose Ace Secret Folder:
Ace Secret Folder is a folder encryption application that makes your folder "secret" and invisible, providing a strong shield to protect your important documents and privacy. It has four main features.
(1) Invisible and without any trace after installation
Ace Secret Folder becomes unseen and without any trace after installation; no one can perceive its existence.
(2) Simple Hotkey Invocation
After Ace Secret Folder is installed, use the shortcut key "Ctrl +Alt + H" to quickly invoke the folder encryption software, so as to encrypt or decrypt a folder. You can set your own software hotkey to hide your secret even deeper.
(3) Folders disappear after encryption
A folder encrypted with Ace Secret Folder becomes completely invisible and disappears from your computer. It can only be opened or decrypted with this folder encryption software.
(4) Fast encryption and decryption
All encryption and decryption in Ace Secret Folder are done in just seconds regardless of the number and size of folders.