The well-known computer monitoring software PC Monitor Expert has been updated to the version 1.65, in which fixed a serious problem and some minor bugs.
Change Log of PC Monitor Expert:
File Name: PC Monitor Expert
Version: 1.65
File Size: 3.79
Category: Computer Monitoring Software
Language: English
License: Trial version
System Requirements: win xp/vista/win 7/win 8
Released on: May 18, 2015
Download Address: http://dogoodsoft.com/pc-monitor-expert/free-download.html
What' New in This Version:
- Fixed a bug that the action checking Records Storage Folder can be tracked by Recent Places;
- Fixed two bugs.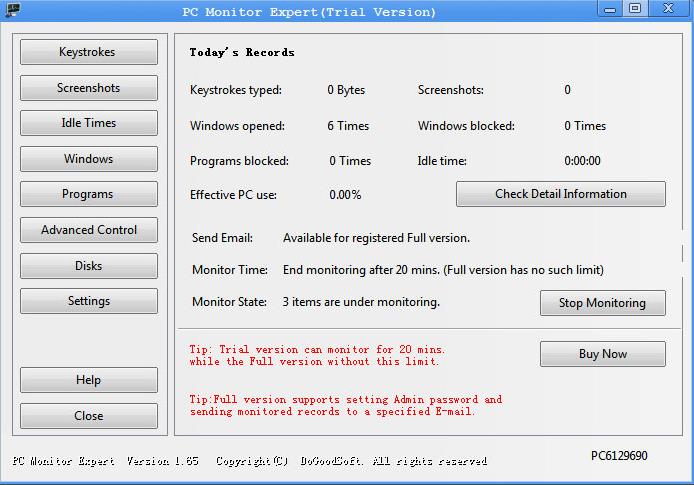 Why Choose PC Monitor Expert:
Stealth operation: PC Monitor Expert cannot be found on the monitored computer. The monitoring software becomes invisible without any trace after installation, and it can monitor the object monitored computer secretly without letting anyone know. You can launch it by pressing hot key "Ctrl + Alt + U".
Powerful monitoring: PC Monitor Expert can monitor all activities and operations on the object monitored computer, record every keystroke typed, screen content, window opened, and log computer idle time. Besides, it has powerful control function which allows you to prohibit specific window or software.
Pure software design: This program has no special requirement on computer or network, neither imposes any influence on them.
Protect user's privacy: For all customers using our monitoring software, we promise that your private and personal information are highly protected and won't be disclosed to any other people.
Superb after-sales service: With professional technical personnel, we provide overall, sound and considerate customer service.
Version feature: Monitor and control object monitored computer.
Application field: Monitor and control all activities and operations on the monitored computer.
Network requirement: PC Monitor Expert permits you monitor an object computer even without internet access. You can view monitored records on the object monitored computer or send the report to an e-mail you specified and check it on another computer.