Magic Timed Shutdown is a professional software application that powers off your computer automatically at specific times. It has four main features - timed auto shutdown, advanced computer control, computer use time limitation and startup/shutdown log analysis. In this new verison, we fixed some bugs and enhanced the software stability.
Change Log of Magic Timed Shutdown 10.03:
File Name: Magic Timed Shutdown
Version: 10.03
File Size: 5.45MB
Category: Timed Shutdown Software
Language: English
OS Support: Win2000/XP/VISTA/Win 7/Win 8
Released on: July 07, 2015
Download Address: http://www.dogoodsoft.com/magic-timed-shutdown/free-download.html
What's New in This Version:
* Enhanced software interface for XP;
* Improved software stablility;
- Fixed the bug that the system cannot be shut down in some cases;
- Fixed several minor bugs.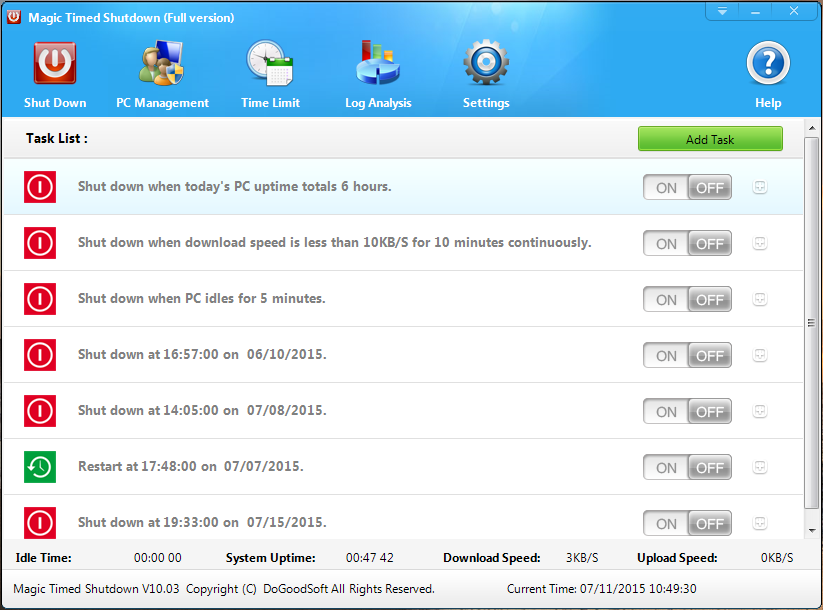 Why Choose Magic Timed Shutdown:
Magic Timed Shutdown is an advanced and powerful tool that permits you to schedule certain tasks for your computer, such as shutdown, logoff, standby, reboot and so forth. It has four main features - Shut Down, PC Management, Time Limit and Log Analysis, which can meet all customer requirements, and especially, is a good helper for parents and computer administrators.