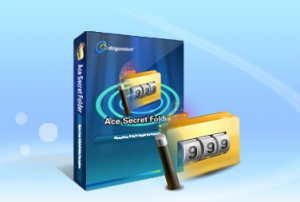 Ace Secret Folder is a kind of folder encryption software which makes your folder "secret" and invisible, providing strong shield to protect your important documents and privacy. It features four characters: completely invisible after installation, simple Hotkey invocation, folders disappearance after encryption and fast encryption and decryption.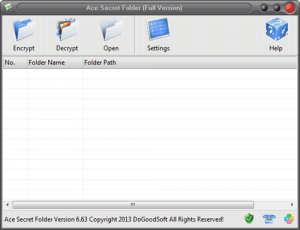 Features
The program will become unseen and invisible without any trace after installation, and no one can perceive its existence. It is beyond all doubt that Ace Secret Folder is suitable to be a helper to guard your important and private data from prying eyes.
After Ace Secret Folder is installed, just use the shortcut hotkey "Ctrl + Alt + H" to quickly invoke the folder encryption software, so as to encrypt or decrypt a folder.
Most importantly, you have the right restricted only in the Full version to set your own software hotkey to make your folder more secret. A folder encrypted with Ace Secret Folder is going to be completely invisible and disappear from your computer. Moreover, it can only be opened or decrypted with this folder encryption software.
Besides, all encryption and decryption in Ace Secret Folder are done in just seconds regardless of the folder quantity size.
Pricing and Availability
You need spend 39.95$ in purchasing Ace Secret Folder. Moreover, it has a 7-day free trial period.
This program is perfectly compatible with 32-bit and 64-bit versions of Win 7, Win 8, Win XP, Vista and others.
More information about the product please visit: www.dogoodsoft.com/ace-secret-folder/
If you want to learn more products of us, please visit our company website: www.dogoodsoft.com/