Recently DoGoodSoft released a trusted computer monitoring software, PC Monitor Expert, monitoring and controlling all activities and operations on the monitored computer. Known for powerful monitoring and stealth operation, it sets fifteen major functions in one.
PC Monitor Expert is an advanced and powerful tool for concerned parents and managers to help respectively supervise their children and employees. It is ideal for users looking to monitor or restrict the use of computer resources.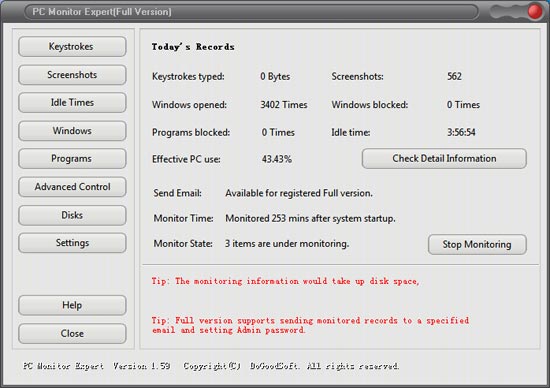 PC Monitor Expert can execute five kinds of functions.
Record keystrokes typed.
PC Monitor Expert can log all keystrokes including English, Chinese characters, figures and functional pressed. At the same time, it also can record MSN or QQ chats, IMs, E-mail sent, usernames and passwords logged on some websites or e-mail.
Computer screenshot
It can take screenshot of the entire computer screen or active window. And the monitor screenshot can be played automatically when you view them, which leaves all activities and operations on the monitored computer at your fingertips.
Monitor and control windows opened
It will make a detailed record about the precise time and the title of opened windows. And you make a setup to forbid anyone to open the window whose title contains some specified keywords. In addition, the monitoring software can also record the action you open a prohibited window and opening time.
Monitor and control programs rum
It can prohibit the programs or applications you specified (PC Monitor Expert have pre-configured over 30 game software). Once the user attempts to run the specified forbidden programs or applications, the monitoring software will automatically close the program and record the breach.
Enhanced function
It can send all monitored record to a specific E-mail. You can conduct network monitoring as you wish. At the same time, you can set a password for this monitoring software protecting this software from being modified or deleted. Furthermore, the software offers timed shutdown function, which makes you able to set up a fixed time to shut down your software.
Other advanced functions contain hide or lock file, folder or disk, record duration of computer idle time.
More information about the product please visit: http://www.dogoodsoft.com/pc-monitor-expert/
If you want to learn more products of us, please visit our company website: http://www.dogoodsoft.com/