"I have used Best Folder Encryptor on my laptop for two years, now I want to use it on another computer. What can I do?"
If you purchase a license of Best Folder Encryptor, you will receive a registration code, with which you can activate Best Folder Encryptor on one computer. While if you change a new computer, should you have to purchase a license again? Of course not. Then what should we do?
In the new version of Best Folder Encryptor(v16.97), we added a new feature -- Log Off.
If you want to replace a new computer, and continue to use Best Folder Encryptor, please first log off in the software on your old computer.
1. Launch Best Folder Encryptor, click "Help", select "About Best Folder Encryptor".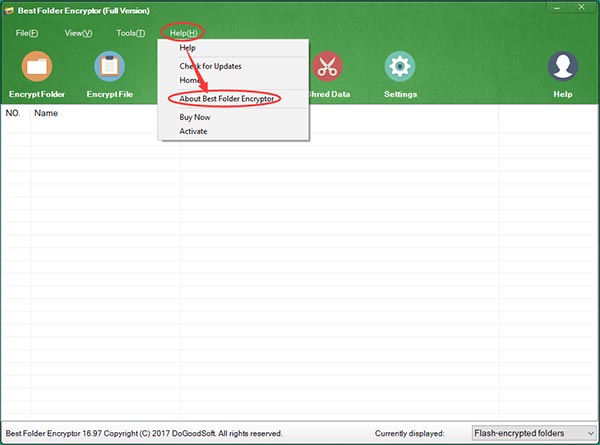 2. You will see the "Log Off" button. Click "Log Off" and wait for a moment.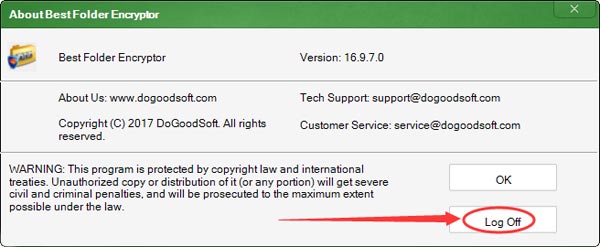 3. Then you will see the message "The activation information has been logged off from the computer."

4. Install Best Folder Encryptor on your new computer, and activate it with your registration code. The code is the one that you purchased before.
Important Notice
Before you change the computer, please decrypt your encrypted files and folders on the old device, then transfer them to another computer. Please note that DO NOT directly copy or move the encrypted files to another computer.
But, if your old computer has been crashed or lost, you cannot log off. What you can do?
Please do not hesitate to get in touch with us at support@dogoodsoft.com, we will get you the help you need.